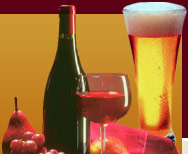 Lager Home Brew
With lager being one of the most popular drinks of our time you'd expect it's popularity to transfer to the home brew market, however the majority of home brewers tend to produce ales rather than lagers. One reason for this is that lager can be slightly more difficult to brew than an ale type beer. It doesn't mean that you shouldn't give it a go and brew your own lager, just be prepared for larger home brew to take a little while longer than ale and require a little more attention. If the instructions are followed correctly you can produce some fine tasting lagers at home.
It's all about the yeast
The main difference between producing ale and lager is the yeast. When brewing ale the yeast ferments at the top whereas with lager it ferments at the bottom. Lager also ferments at lower temperatures than ale which also means that the fermentation period is lengthier. Ale ferments between 68 and 72°F (20 to 22°C) whereas lager ferments between 45 and 44°F (7 to 13°C).
Basically bottom fermenting yeasts work better in cooler temperatures. However in addition to this difference lager also has to undergo secondary conditioning.
Secondary conditioning
This is also known as the clearing stage and is the process when the beer or lager is 'racked' or transferred out of the fermenting bin to undergo an additional period for clearing. Generally this will take between two and three weeks for ale, and a little longer (at least a month) for lagers.
Which lager to brew
So you're aware that there could be complications, you'll have to be patient before the final product is ready, and the process requires a watchful eye. If you still want to go ahead and brew your own lager then what's available to home brew?
Pilsner

- A pale coloured lager that continues to be one of the most popular drinks of modern day.

Bock

- A strong lager with medieval heritage with a great malt depth and dark colour.

Dunkel

- A full bodied although not too heavy rich tasting dark lager.

Bavarian

- A light golden coloured drink with a malty aroma, perfect for a summers day!
Well that's given you a few choices so all you need to do now is choose a lager and start brewing. Follow the instructions on our how to brew beer page, making sure you ferment your lager at the lower temperatures as advised above.