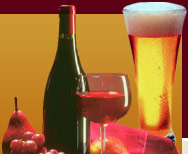 Home Brew Cider
With it's refreshing natural taste cider has quickly taken its place as a firm favourite for home brewers. Home brew cider can involve hard work or be relatively quick and simple to produce. This depends on whether you brew the cider using fresh apples or opt for pasteurised apple juice, straight from the supermarket shelf. Cider is simply fermented apple juice and how you source your juice can often depend on whether you have an apple tree or two at the bottom of your garden.
There are several cider making kits available online starting from just under £20 for a 40 pint kit.
People with their own apple trees are often introduced to home brew cider as a way of avoiding waste and creating something other than apple pie!! Whichever method you choose the end result will be a quality home brew cider at a fraction of the cost of pub and supermarket prices.
Home Brew Cider - apples or juice?
So now you're ready to give cider brewing a try you need to decide whether to start from scratch by using apples or make a quick trip to your local supermarket for some pasteurised apple juice. You may want to try making truly organic cider from your own apples but are concerned about the cost of the fruit crushers and apple press that are needed for this. Although this equipment can be quite costly it's worth speaking to your local home brew shop first as they often hire out the equipment for a small charge.
Almost any variety of apple can be used to make a refreshing home brew cider, but although bruised fruit is okay to use avoid any rotten apples. If made from just one type of dessert apple you may find the cider tastes too sweet. The best way to counteract this is to mix in a few crab apples. If you decide to opt for the quicker method making home brew cider could not be simpler! Just make sure you buy pasteurised apple juice not fresh as fresh juice contains bacteria. There are several cider making kits available online starting from just under £20 for a 40 pint kit.
Turbo cider
A quick and easy home brew cider recipe is that of turbo cider. As the name suggests, the advantages of brewing turbo cider are that it is quick, very easy, and more importantly the cider is ready to drink in a couple of weeks. All you need to make turbo cider is supermarket bought apple juice and yeast (bread or ale yeast will both be fine). The only equipment required is a demijohn. (plastic ones can be picked up online for under £3). Many fans of turbo cider also add honey or extra sugars for a stronger drink. However beware, this beverage is more suited to the, shall we say more experienced drinker!!
Hopefully this has wetted your appetite to try brewing cider for yourself. Whether you opt for the traditional method or have a go at making turbo cider I'm sure you'll create a refreshing home brew cider.
Cider brewers handbook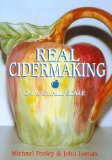 If you have your own apple trees and are serious about producing a quality home brew cider then this book could be your perfect brewing companion. "Real cider making on a small scale" is available on amazon and scores great reviews from customers who who have followed the straightforward clear instructions for making traditional home brew cider.
Cider brewing book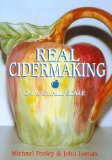 This book is an essential guide for the budding cider maker and is informative and easy to follow. If you are thinking of brewing cider and haven't bought this book, you really need to buy it today!